It seems to be that the majority of the 'best films of 2013′ don't get an official UK release until the first two months of next year. Films such as '12 Years a Slave', 'The Wolf of Wall Street' and 'American Hustle' make a regular appearance on the annual shortlist for film magazines, blogs and newspapers simply because of advanced press screenings and earlier release dates in America. So I thought I'd make a list of films that most of us would have actually got the chance to see this year.  After some careful deliberation, I have selected the ten films I saw this year that I believe are most definitely worth your attention.
10. Alan Partridge: Alpha Papa – One of the few comedies on the list, I greeted the news of an Alan Partridge film with an equal amount of excitement and trepidation after being a huge fan of the TV series. Steve Coogan, Armando Ianucci and the rest of the writing team had a very tricky task of expanding an immensely popular half-hour show into a feature-length narrative- but they succeeded where so many had fell flat. Partridge is as self-centered and eccentric as ever in 'Alpha Papa…', accompanied by the return of old favorites Lynn (Felicity Montagu) and Michael (Simon Greenall). It doesn't surpass the series in terms of laughs, but there is little else that actually does.
9. The Place Beyond the Pines – Derek Cianfrance's second feature-length effort proved to be as equally heartfelt and visually eloquent as his debut 'Blue Valentine'. Ryan Gosling does a good job of playing a stunt-motorcyclist who's made a string of bad decisions in his life. complete with bad face tattoos and an illegitimate son, we see him providing by robbing banks in some thrilling scenes shot almost completely in single takes. Bradley Cooper is also very convincing as the overtly ambitious police officer whose story comprises the second half of the film. I can't say I'm a huge fan of the split narrative but the crisp cinematography and great soundtrack help propel the film, giving emphasis to its inherently romantic nature.
8. Django Unchained – If you're looking for the film that's probably the most fun this year, Tarantino's latest effort is certainly a good choice. This Spaghetti Western/slave drama is a film that doesn't pull any punches, bombarding viewers with brutal yet stylistic violence, accompanied by a thrilling soundtrack and scenery. Jamie Foxx takes on the role of Django with ease whilst accompanied by Dr King Schultz, played by the magnificent Christoph Waltz who arguably steals the show. Dicaprio plays the sadistic plantation owner in an enthusiastic turn that arguably verges on a tad 'try-hard', but this is nevertheless an enjoyable romp that could have perhaps done with being roughly 20 minutes shorter. If you like Tarantino then you will no doubt be impressed because Django is a perfect showcase of the notorious Hollywood renegade doing what he does best.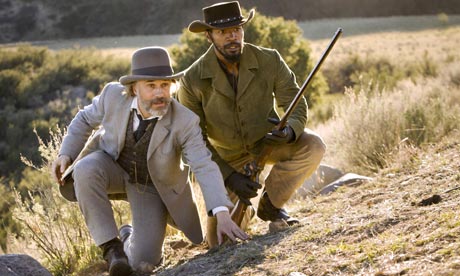 7. Only God Forgives – This is the second team-up from heart-throb Ryan Gosling and Danish weirdo director Nicholas Winding Refn following 2011's effortlessly cool 'Drive' – a film that some people (like myself) adored but others deemed it overrated. 'Only God Forgives' seemed to further divide opinion through its beautifully weird, grotesque and abstract nature. I did my research before going to see this and decided to go see it on my own (i'm a loser, i don't care) for fears that it would fall into the "mate, what the hell did you just make us watch" category. And sure enough, this film is VERY weird; with very minimal dialogue and an incredibly suggestive plot that deals with lofty metaphors of God, the Devil, and divine Judgement, there is no surprise that people who were expecting something resembling 'Drive 2' were severely disappointed. With sublime visuals of a neon-lit Bangkok, a terrifying o.s.t from Cliff Martinez and a brilliant turn from Vithaya Pansingarm, there is much to revel in despite the fact you'll be left scratching your head for a while… 
6.Behind the Candelabra – Steven Soderbergh's film documenting the relationship between Liberace and his secret lover was deemed 'too gay' for Hollywood- hence the unofficial HBO release in the USA, which probably hasn't helped Soderbergh change his mind regarding his plans to retire. Michael Douglas perfectly captures the strange and insanely ostentatious nature of Liberace and Matt Damon gives an incredible performance as Liberace's lover, Scott Thorson. Both actors do a terrific job of shunning any preconceptions critics may have had regarding their portrayal of a turbulent yet loving gay relationship. In 'Behind the Candelabra' Soderbergh expertly creates a balance of romance, tragedy and humour – Rob Lowe's hilariously garish plastic surgeon character is particularly funny, making sure that the film doesn't take itself too seriously.
5.Frances Ha – One of the most successful independent films of the year, Noah Baumbach's film completely embodies the term 'kooky' with a capital K. Greta Gerwig plays the fairly hopeless Frances, a New York woman with very little direction or stability in life. Shot perfectly in black and white, Gerwig is a charming on-screen prescence as well as a clever comedy writer (co-writing the film with Baumbach). Such quirkiness might not be to everyone's taste, but many will delight in the subtle humour and great cinematography reminiscent of Woody Allen at his best. A compliation of David Bowie, T Rex and Paul McCartney make for a great soundtrack, adding character to a film that already has tons.
4.A Field In England – Another film that falls into the "mate, what did you just make us watch" category, 'A Field In England' is a 17th century black and white acid trip that will leave you clueless even after a number of viewings. After the success of his black comedy 'Sightseers', Ben Wheatley shows he is a fearless British director, taking a huge risk by making something utterly bizarre yet traditionally English. The end result is a hypnotic period drama that perfectly captures the contextual uncertainty of the future, where superstition and the occult gradually gives way to scientific discovery. This is a film that doesn't have to be completely understood to be enjoyed – the five minute stroboscopic magic mushroom-fuelled montage alone is definitely worth seeing. 
3.The Act of Killing – Joshua Oppenheimer's documentary concerning former Indonesian death squad leaders is one of the few films i've seen that has simultaneously left me feeling shocked/repulsed/bewildered/chilled/in awe/mentally unstable. If you're someone that usually shies away from feature-length documentaries then I urge you to watch this because there is definitely a reason why it is considered by all reputable critics as one of the films of the year. Oppenheimer follows Indonesian ex para-militaries and gangsters that killed over 3 million communists in the mid 60's. What's truly bizarre is the way in which these people show virtually no remorse for their actions and are more than happy to act out the atrocities in explicit detail. Some shots are so surreal that it sometimes feels like you're witnessing an apocalypse on another planet. This is an intensely enveloping exploration into humanity, remorse and conscience. Werner Herzog said that this was the most frightening and surreal film he's seen in the last decade – which says a great deal coming from a man that cooked and ate his own shoe after losing a bet with Errol Morris. It truly has to be seen to be believed… or explained. 
2.Mud – It was a tough decision whether or not to put this film first because there is very little not to love about this coming of age slice of Americana. Mathew McConaughey perfectly portrays the weirdy wildman 'Mud', a man on the run from state troopers due to his reckless infatuation with Juniper (Reese Witherspoon). McConaughey is making some fantastic career moves at the moment- this film is part of the the whole "McConaissance" (eurgh) that everyone seems to be talking about, so I am incredibly excited for his next film 'Dallas Buyers Club'. But arguably the real star of the show is Tye Sheridan, the boy who plays Ellis, a teenager who meets Mud and ends up attempting to solve his predicament. Jeff Nichols' film has some echoes of "Stand By Me" but this is more than just a 'Coming of Age' drama which is what really sets it apart from other equally heartwarming films this year. 
1.Gravity – Taking around seven years to make and having an estimated budget of $100,000,000, Gravity is clearly one of the best film spectacles ever made. Alfonso Cuaron proved he has a fantastic eye for detail in his 2010  film 'Children of Men' and definitely doesn't disappoint this time round. The breath-taking visuals of Earth, space debris and objects floating in zero-gravity ensure that this is a film that has to be seen in 3D on the big screen for an unparalleled immersive experience. But despite the film's visual prowess, there is ultimately a great disaster narrative that won't fail to keep you on the edge of your seat for 91 minutes. Bullock and  Clooney give a faultless performance which is especially impressive considering the revolutionary hi-tech shooting methods that took place at Pinewood and Shepperton. I know I've mentioned soundtracks for pretty much EVERY film on this list but I think it's an essential part of a great film and Gravity is no exception. The intense atmospheric throb of orchestral music coupled with bouts of ghostly silence keep audience members captivated from start to finish. This is a science-fiction film that could've easily turned into a silly space adventure with a schmaltzy storyline. However, Cuaron goes at great lengths to anchor a great deal of reality in a fairly unreal environment due to incredible research and attention to detail combined with a story that fails to be predictable. I went in with huge expectations fuelled by friends and critics such as Empire calling it 'the film event of the year' but these expectations were definitely surpassed.
I know i've missed some great films such as 'Prince Avalanche', 'Captain Philips', 'The Selfish Giant', 'Rush', 'Spring Breakers', 'Lincoln' AND 'Nebraska'. All are great films that are worth a mention, but it would be hard for me to watch EVERYTHING and do my dissertation… So feel free to comment if you think I've missed something obvious or if I'm incredibly misinformed. I won't judge you too much.